本内容基于J.M. GEORGE、D. LEPLEY、E. BROCARD、F. VIRLOGEUX、S. ROUDE的文章This content is based on the article "架空线路绝缘子的污秽缓解方案"
全球术语"污染"通常被理解为绝缘子表面的任何物质,会影响绝缘性能。但是这种污染应该精确地定义,以便选择最合适的对策。
在污染条件下,污染物沉积在绝缘子表面会形成导电层,产生泄漏电流,形成干带,以及在某些条件下的闪络。
线路设计工程师和维护人员面临的挑战是了解如何来避免这种电气闪络,通过使用积污更少、更耐电弧放电的绝缘体,或者使用会降低外部电弧发生的材料设计。
处理污染问题时,专家们使用以下几个术语:
爬电距离: (或者 "泄漏距离" ). 它是电弧沿着绝缘体表面从一个金属端部配件到下一个金属端部配件所经过的距离(图1)。
电弧距离: 绝缘体接地端和带电端之间的最短距离(图1)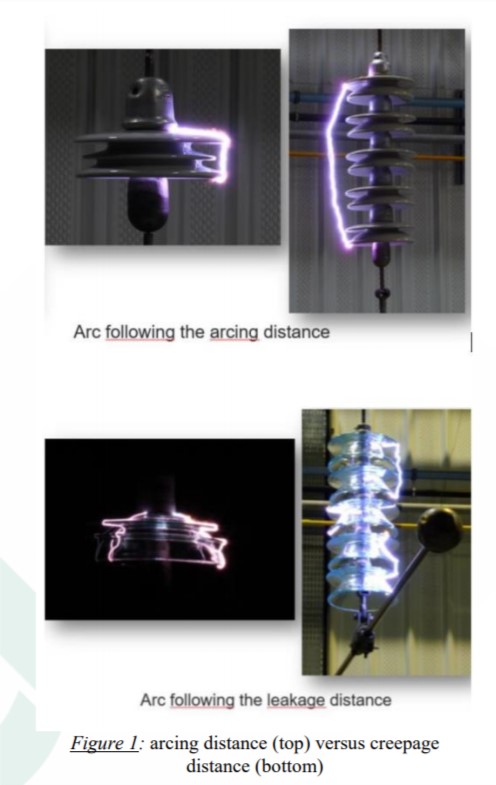 ESDD is the acronym for Equivalent Salt Deposit Density. It represents the quantity of salt required to achieve the conductivity reached by the pollutant dissolved in the water.ESDD是等效盐密的缩写。它表示溶解在水中的污染物达到电导率所需的盐量。
When salts dissolve in water the conductivity of the humid/wet film on the surface of the insulator increases, and subsequently the risk of having a flashover increases as well. The unit of measure is mg/cm².
NSDD is the acronym for Non-Soluble Deposit Density. It corresponds to the amount of deposit on the surface of the insulator which does not dissolve in water and remains inert on the surface. Sand for example is a typical component of NSDD. The non-soluble component of the pollution layer will work like a sponge catching more humidity which in turn will facilitate the conductivity on the surface of the insulator.
Leakage current: is the electric current flowing along the surface of an insulator along the leakage distance. Each insulator type has a limit above which the leakage current will lead to arcing and possibly a complete bypass of the insulator (this final stage of arcing is then called flashover).
Specific leakage distance: the ratio between the leakage distance of an insulator (or string of insulators) and the phase to ground voltage. The unit is mm/ kV and referred to as USCD (Unified Specific Creepage Distance)
Dry band arcing: is a dynamic process by which an arc once initiated will dry the area where it takes place. By drying a segment of the insulator, the arc will progressively have more and more difficulties to be sustained, will self-extinguish until the surface is wet again, leading to currents which will generate new arcs, new dry spots….
The evaluation of the pollution level
The evaluation of the pollution level in any given area on an insulator can be made by measuring both ESDD and NSDD.
The procedure consists in washing the surface of the insulator with deionized water which conductivity is measured prior to washing.
After washing, the conductivity is measured again, and tabulated for conversion in equivalent salt weight. This number is then divided by the surface which was washed (ESDD value). Once this is done, the washing water is filtered on a paper filter which needs to be dried in an oven.
The weight of solid deposit is divided by the surface of the insulator to give the final NSDD in mg/cm². (figure 2)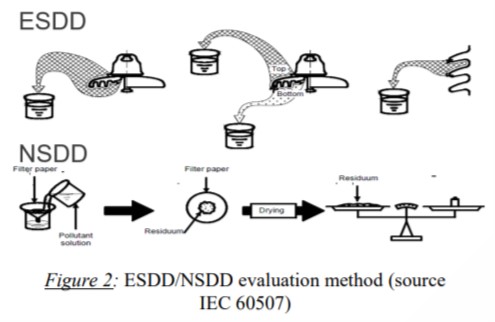 Once ESDD and NSDD are defined, it is possible to establish the pollution class as per IEC 60815 (figure 3).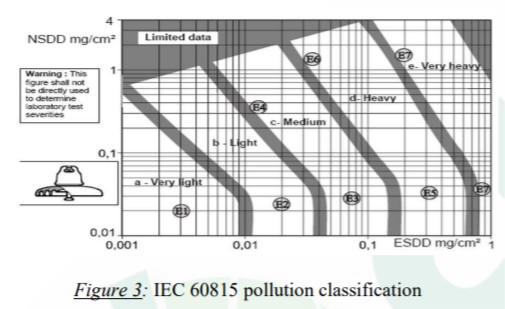 For each class of pollution IEC gives an average USCD as a reference base value for selecting a leakage distance in the environment under consideration (figure 4).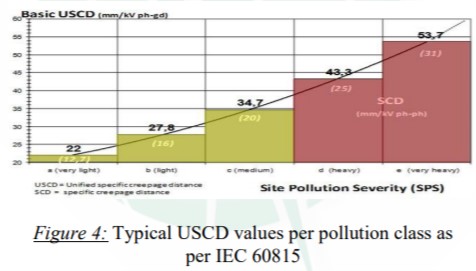 With this evaluation, expert can choose the better insulators solution to deal with this pollution environment, and even go further with a live leakage current measurement to follow the development of surface currents and be in position to anticipate any critical situation.
To discover more about our insulators solution for polluted environment see our Sedicoat® insulator, a toughened glass insulator factory-processed with an RTV silicone coating which eliminates the need for regular washing, our or live leakage current measurement solution Sediver Smart'R Suite
*以上提供的个人资料是确保处理您的要求所必需的。通过提交此表格,我承认我的信息可以用于商业联系以及可能与SEDIVER的进一步互动。根据2016年4月27日关于个人保护的第2016/679号一般数据保护条例(EU)和任何其他适用的当地数据保护法律,您有权访问、更正、删除、携带和限制您的个人数据处理。要了解和行使您的权利, 请查。 阅使用条款