Today, we are celebrating the Global Recycling Day. Let's share more information about the "recycling value" of glass insulators.
Recyclability is one of the key topics we consider in our manufacturing process from the beginning to the end-of-life of our products.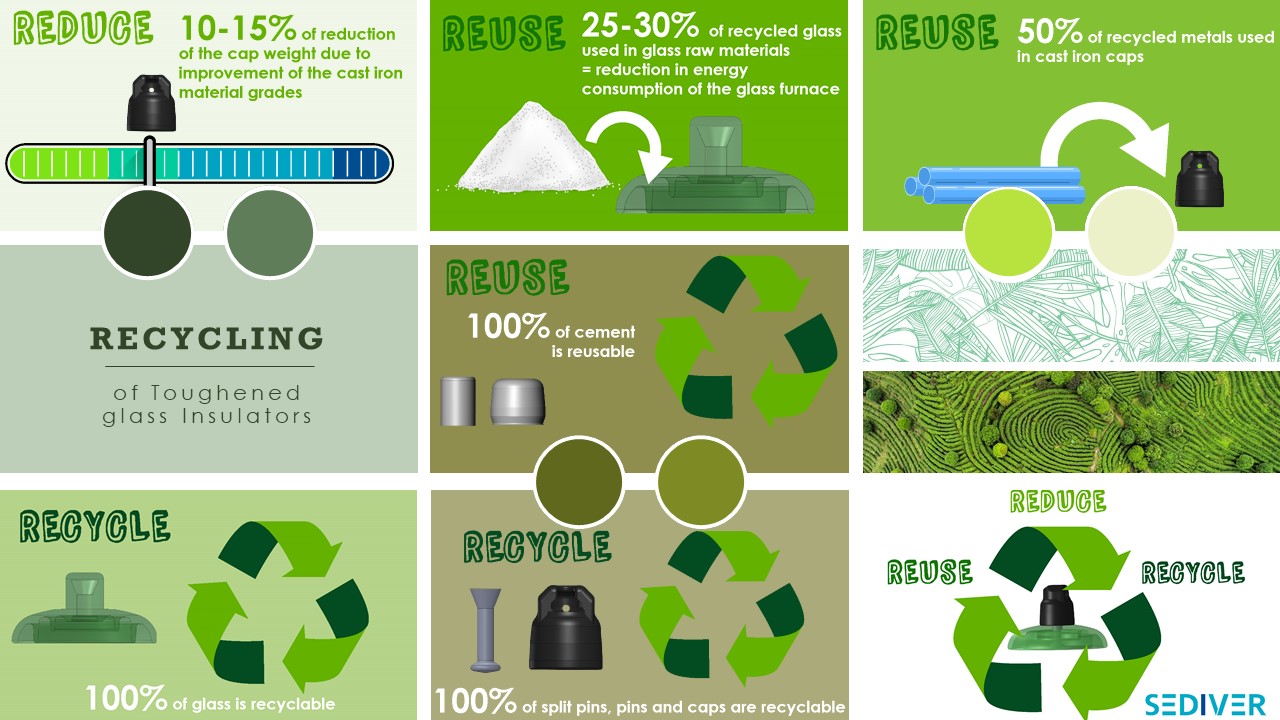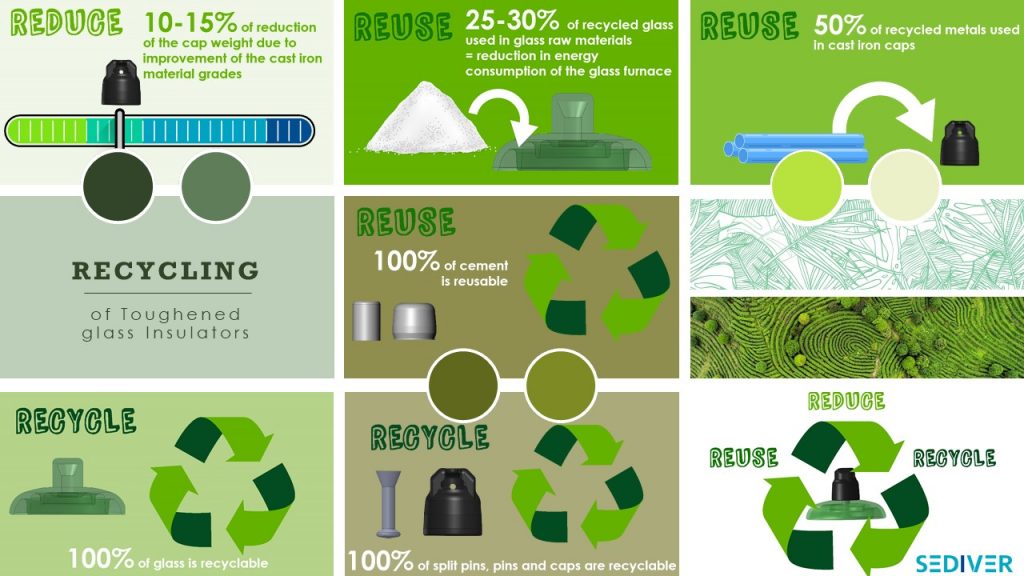 During our manufacturing process
We improve our manufacturing process to:
Reduce the weight of our caps by 10-15%,
Use more than 25% of recycled glass.
Use 50% of recycled metals to manufacture our caps, pins and split pins
At the end-of-life of our insulators
Sediver glass insulators will stay on service for more than 50 years. AT the end of their life, they can be entirely reused:
Glass is 100% recyclable through the glass manufacturing industry
Caps, pins and split pins are 100% recyclable through steelworks
Cement is 100% reusable in road construction
During all their lifespan Sediver® Toughened Glass insulators have the unique ability to resist the effects of time and the elements with no degradation of their performance. Moreover, they are safe to work with for the linemen and, at the end, are recyclable. Our Toughened Glass insulators are the safer and more sustainable choice for your T&D overhead line insulation system.
More info on : https://www.globalrecyclingfoundation.org/our-initiatives/initiative-3/
The information collected through this form are processed by SEDIVER, a simplified joint stock company, registered with the Nanterre Trade and Company register under number 542035761 and whose headquarter is located 7/9 allée de l'Arche 92400 Courbevoie for the purpose of allowing the download of our whitepaper documents and to send you information about our group's companies and products. The legal basis for these processing activities is our legitimate interest to know who access and download our resources and to send them direct communication.
Fields marked with an asterisk (*) are required information. Should you fail to give this required information, you will not be able to download our whitepaper documents.
You have a right of access, rectification, erasure and limitation with regard to the processing of your personal data as well as the right to define guidelines regarding what happens to your data after your death and the right of portability of your personal data, to the extent applicable under local legislation. You also have a right to object to the receipt of marketing communication by ticking the dedicated box of this form, and at any time by clicking on the unsubscribe link placed in all our marketing communications.
To find out more about how we process your personal data and to exercise your rights, please refer to the SEVES group EU privacy policy and the SEDIVER privacy policy.
For more information, please consult our Privacy Policy.