Insulators installed on HVDC lines have to sustain very unique and specific stress conditions associated with the unidirectional electrical field and current flow that are generating ionic migration, thermal runaway, pollution accumulation and corrosion of metal fittings.
To achieve an optimum performance in DC and to cope with these 4 specific Direct Current constraints, Sediver pioneered, as early as the mid 1980's, an exclusive DC insulator that combines:
a high resistivity toughened glass (HRTG) chemical composition able to block the ion flow
an optimized insulator design with an increased leakage distance to enhance the pollution performance and a protection of the metal fittings against electrolytic corrosion
a special manufacturing process that produces a very high purity of glass, which makes it less sensitive to ionic accumulation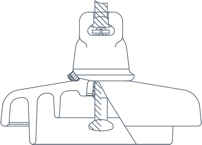 This development has largely contributed to establishing a high-performance benchmark in the industry, including specific criteria later on introduced in IEC 61325 which is still the only international standard describing HVDC performance requirements.
Range
The specific conditions of DC applications require that the insulator be designed to reduce the risk of excessive dust accumulation resulting from unidirectional electric fields. In DC application Sediver recommends the selection of glass profiles with self-cleaning properties of reduced pollution build-up.
Recommended profiles:

FOG types profile
In heavy polluted areas

Open profile
In desert areas

Outerib profile
In heavily polluted areas with solid pollution
Mechanical rating
From 70 kN up to 840 kN
Sediver extensive HVDC worldwide experience
50+ years of experience in HVDC applications
More than 11 million Sediver insulators have been installed all around the world on the most prestigious HVDC transmission lines up to 800 kV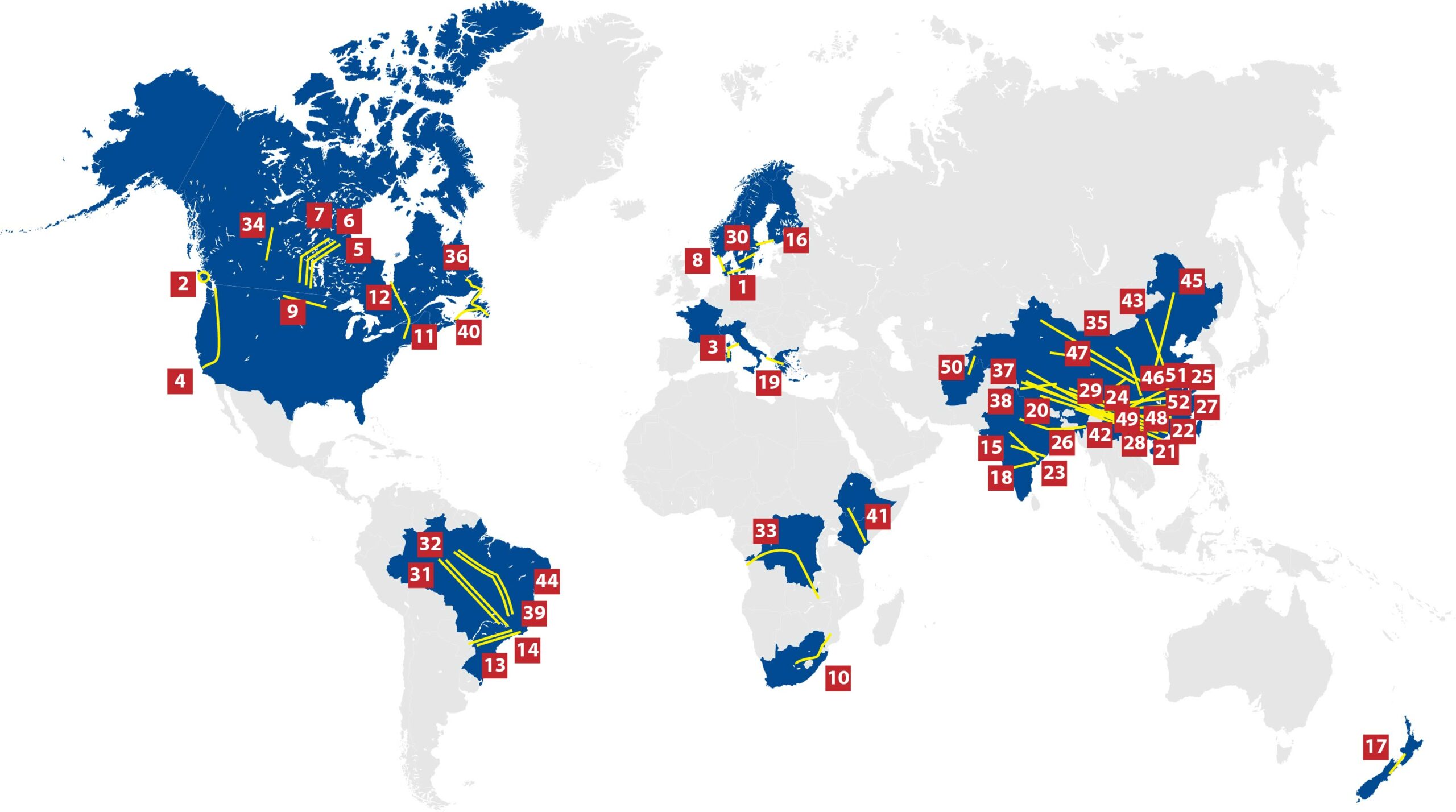 1. ±300 kV DC, Denmark-Sweden,Konti-Skan 1;2 and 3, 1965/1988
2. ± 260 kV DC, Canada, Vancouver Islands 42km, 1967
3. ±200 kV DC, Italy-France, Corsica-Sardinia-Italy 264 km, 1967/1992
4. ± 500 kV DC, USA, Pacific Intertie 1 360 km, 1969/2014/2017-2019
5-6-7. ±450&500 kV DC, Canada, Kettle Winnipeg Nelson River, 2×870 km Bipole I, II,& Bipole III, 1.364 km, 1972 & 2014-15
8. ± 250&350 kV DC, Denmark-Norway, Skagerrak 217 km, 1&2;3 1975/1993
9. ±500 kV DC, USA, Dickinson – Coal Creek 687km, 1978
10. ±500 kV DC, Mozambique, Cahora Bassa 1 420 km, 1978
11. ± 500 kV DC, USA, New England 85 km, 1984
12. ± 450 kV DC, Canada, Quebec- New England, 1 100 km, 1988
13-14. ±600 kV DC, Brazil, Itaipu 1 & 2, 2 x 800 km, 1984/87
15. ±500 kV DC, India, Rihand Dadri 814 km, 1987
16. ±500 kV DC, Finland-Sweden, Fenno Skan 1&2 136 km, 1988/2009
17. ±350 kV DC, New Zealand, North South Island 535 km, 1990
18. ±500 kV DC, India, Chandrapur Padghe, 752 km, 1997
19. ±400 kV DC, Italy-Greece Interconnection, 110 km, 1999
20. ±500 kV DC, China, Tianshengqiao – Guangzhou 1 050 km, 2001/2004
21. ±500 kV DC, China, Guizhou – Guangdong 1 & 2 2007 km, 2003
22. ±500 kV DC, China, Yunnan – Guangdong 1 418 km, 2008
23. ±500 kV DC, India, Ballia Bhiwadi 780 km, 2008/2009
24. ±500 kV DC, China, Deyang – Baoji 534 km, 2009
25. ±500 kV DC, China, Gezhouba-Shanghai 1 929 km, 2009
26. ±800 kV DC, India, Biswanath Agra 1 825 km, 2010/11/12
27. ±800 kV DC, China, Jinping-Sunan 2 089 km, 2011
28. ±800 kV DC, China, Nuozhadu-Guangdong 1 413 km, 2012
29. ±500 kV DC, China, Xiluodu-Guangdong 1 251 km, 2012
30. ±300 kV DC, Sweden, South-West Link – the Southern part, 2012
31-32. ±600 kV DC, Brazil, Rio Madeira I&II, 2 x 2 500 km, 2012/13
33. ±500 kV DC, Congo DR, Inga-Shaba 1 700 km, 2013/2017
34. ±500 kV DC, Canada, Eastern Alberta, 500 km, 2013
35. ±800 kV DC, China, Hami-Zhengzhou 2 208 km, 2013
36. ± 350 kV DC, Labrador-Newfoundland – Muskrat Falls,1 300 km, 2014
37. ±500 kV DC, China, Jinzhong-Guangxi, 577 km, 2015
38. ±500 kV DC, China, Guanyinyan DC, 700 km, 2015
39. ±800 kV DC, Brazil, Belo Monte I, 2 000 km, 2015-17
40. ±200 kV DC, Canada, Maritime link, 2016
41. ±500 kV DC, Ethiopia-Kenya, Interconnection, 1 045 km, 2016-17
42.  ±800 kV DC China, Dianxibei, 1 928 km, 2017
43. ±800 kV DC China, Ximeng-Taizhou, 1 620 km, 2017
44. ±800 kV DC, Brazil, Belo Monte II, 2 300 km, 2017
45. ±800 kV DC, China, Zhalute-Qingzhou, 1 320 km, 2017
46. ± 800 kV DC, China, Shaanbei-Wuhan, 1 135 km, 2019
47. ±800 kV DC, China, Qinghai-Henan, 1 575 km, 2019
48. ±800 kV DC, China, Wudongde-Guangxi, 1 490 km, 2019
49. ±500 kV DC, China, Yunnan-Guizhou Interconnection, 1283 km, 2019
50. ±500 kV DC, Tajikistan-Afghanistan, Sangtuda to Deh Salah, 162 km, 2020
51. ±800 kV DC, China, Baihetan-Jiangsu, 2269km, 2021
52. ±800 kV DC, China, Baihetan-Zhejiang, 2193 km, 2021